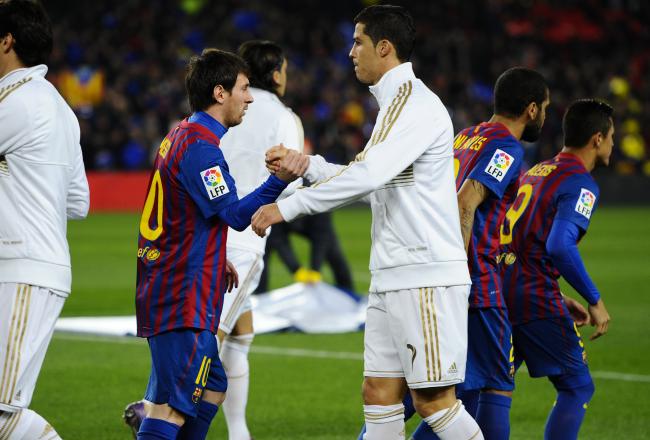 The biggest rivalry in the world of sports, the Clasico, is here once again. And I am worried.
Tomorrow, Real Madrid FC and FC Barcelona will met in an epic clash in Barcelona's Camp Nou—a bitter rivalry that has in recent times come to be known for its fierce competitiveness as well as its symbolism. It will be watched by an estimated 400 million people all around the world. You couldn't ask for a bigger stage if you were a professional. Football stars from other leagues are going to be tuned in to see what the two biggest clubs in Spain will do.
So far Mourinho and Xavi have been trying to manage expectations. In all reality, it is just a game, but it is a game that really matters. Let us consider these facts:
A) Real Madrid, the league winners last year, are 8 points behind Barca in the league standings this year having won three, lost 2 and tied 1 of the six games played so far this year. Barca by contrast has won all 6 matches to be at the top of the league table.
B) Real Madrid has been outperforming Barca in recent head-to-head matches. Ronaldo has scored against Barcelona in their last 5 meetings. Also, you might remember that Real Madrid defeated Barcelona to take the Supercopa earlier this season.
C) Unlike Real Madrid that has a relatively healthy collection of eager and motivated players especially players in fine form waiting on the bench (what we call a deep bench), Barcelona by contrast has been plagued by injuries. Since the season began Pique, Puyol, Thiago Alcantarra, Iniesta, Alves etc. have had one injury or the other put them out of action. As the Cules get ready to battle the Blancos, I must point out also that they will not have the services of Pique and Puyol at the back.
All these lead me to conclude that Barca must have to be exceptional form if they are not to come away with a loss at home to a physically less depleted, stronger and hungrier Madrid team. This is compounded by the fact that Barcelona seems to not have a reliable Centre Back. Like I pointed out several times last season, Barcelona desperately needs to fortify its back line, and since it hasn't done so, it is actually within the bounds of reason to expect that Real Madrid's rapid fire offence will cause a lot of headaches to Barca's weaker defensive line. As a matter of fact, I am expecting a Barca loss tomorrow strange as that might sound to come from a fan.
We have struggled to win these matches unlike the Barca of a few years ago. One might even say that other teams have somehow managed to fashion a winning strategy or formula when faced with Barca's tiki-taka. Do you want to know what this winning formula is? I'll tell you. In any game with Barca, you automatically know we will dominate the possession. You know we'll surely pass the ball around more often than your team. Our problem now seems to be that since Messi has suddenly decided to feature more prominently in mid-field (one wonders if he has lost his scoring drive or if he is trying to share the stage by assisting other's to score), Barca will continue passing the ball at the edge of the goal seeking for a way to break down Real Madrid's defense in other to score. Madrid simply has to defend aggressively in order to frustrate Barca's slew of passes which ultimately go nowhere. While the passing is a good strategy to lure out sit-tight defending, it has its own downside.
First, Alexis Sanchez and Cesc Fabregas aren't as sharp as they needs to be when faced with clear goal scoring opportunities. Pedro on his own part shoots too hastily and misses or else he is just passing the ball rather than trying to intimidate the opposing defenders with fast runs down the flank and the occasional cross. Messi uncharacteristically makes little effort to score. It is as though he is trying to de-emphasize his goal-scoring form this year, and besides, I have seen him complaining and arguing with referee decisions more often than he is used to.
Secondly, Real Madrid is fast on the counter-attack. They should use that often to stun or force Barca into defending their own portion of the turf. If Barca passes a lot of balls that are quickly converted into quick goals by Madrid, they may have to reconsider the strategy. In fact if that happens, it will so much dampen morale that Barca might eventually lose the match. Therefore it is crucial that Madrid does not allow Barca to get into their usual free passing mode. If Barca dominates early, and gets 'into sync' with their passing, it will be a long night for Madrid. That means they should always be sending balls forward to test the ability of Barca's defense tomorrow.
Now, you might wonder why I seem to be giving these points to Madrid, and supposedly exposing the flaws of my own team. The answer is simple—this seems to be open knowledge to many teams now who have used them to great effect against Barca. Furthermore, like I pointed out, I will be surprised if Barca wins tomorrow with the depleted team they seem to be fielding against the Merengues. Of course any Barca win will extend our lead to 11 points, but that will not necessarily mean that the title has been won. We have been winning matches but not with the same flair, style or dominance like we are used to; something is clearly off. For now, I am putting it down to injuries and the lack of rock-solid defending. After this encounter, we'll know how well Barca is prepared for the rest of the season.
Finally, I expect a mature entertaining match devoid of fighting, pushing, shoving, bickering and all the other unwholesome shenanigans that we have come to expect out of a match of this stature.
Go Barcelona—surprise me if you can!