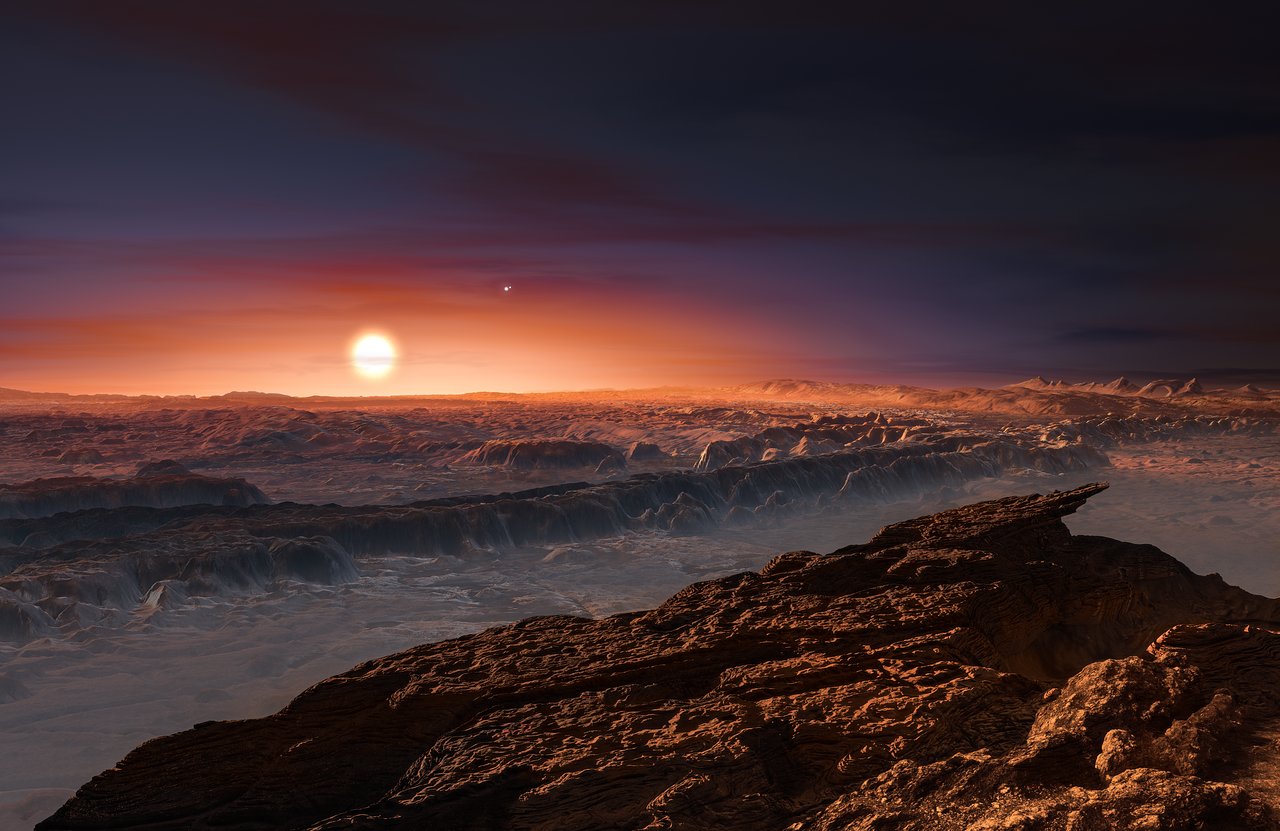 An artist's illustration of Proxima B showing her sun, Proxima Centauri
As the search for life outside planet Earth continues relentlessly, the Huffington Post reports the discovery of
yet another exoplanet that might be able to support life!
An Earth-like planet is orbiting the sun closest to ours, scientists announced Wednesday.

The planet, called "Proxima b," orbits a star called "Proxima Centauri" and has a temperature that would allow liquid water to exist there, according to a statement released Wednesday by the European Southern Observatory. That means the world is possibly habitable, but scientists don't know yet whether there's anything living there.

"This rocky world is a little more massive than the Earth and is the closest exoplanet to us ― and it may also be the closest possible abode for life outside the solar system," ESO said. 

Proxima Centauri, a red dwarf star, lies just 4.25 light-years away from Earth. While that's pretty far away by astronomical distances, it's just a drop in the cosmic bucket. Other Earth-like exoplanets that have been discovered are much farther away from Earth, which makes the revelation of Proxima b more exciting.

Earlier this year, researchers in Chile looked at Proxima Centauri using the High Accuracy Radial velocity Planet Searcher, or HARPS, a high-resolution instrument that specializes in the search for extrasolar planets. They were searching for a wobble in the star that would indicate the gravitational tug of a potential orbiting planet.

What they found amazed them.

"The first hints of a possible planet were spotted back in 2013, but the detection was not convincing," Guillem Anglada-Escude of Queen Mary University in London, who led the Chile team, said in the ESO statement. This year, the team checked every day during the 60 nights of their scans of Proxima Centauri. "The first 10 were promising, the first 20 were consistent with expectations, and at 30 days, the result was pretty much definitive, so we started drafting the paper!" he said.

The researchers will publish their scientific paper detailing the astronomical finding on Aug. 25 in the journal Nature.
..